Intuitive Eating with Whole Foods Market and Amazon
A few weeks ago I turned 26 and it was nothing but silence on my social media accounts as I approached this big milestone in my life.
During this hiatus, I took time to think about what I wanted professionally, physically, spiritually and financially: fully & truly in all aspects of my life.
What are my life goals? Who do I want to be? The more I considered this, the more I realized what I was doing didn't align with what I wanted. As I realized how far off from my ideals I was, I knew difficult and drastic changes were ahead of me, including leaving my full time job.
I saw this journey in self reclamation and maturation starting with food. My relationship with food has been somewhat shaky lately, as many of you know, I'm always eating out and tend to miss that critical balance.
What is intuitive eating?
Intuitive eating is a nutrition philosophy that calls you to become more aware of your body's natural hunger signals as a way to maintain a healthy weight/lifestyle versus more traditional methods such as calorie tracking, completely cutting out certain food groups, etc.
It's a 'non-dieting' approach that calls you to reconnect to your body's innate wisdom to determine the right amount of food for you, build self trust around eating those challenging foods and more mindful, conscious consumption behavior.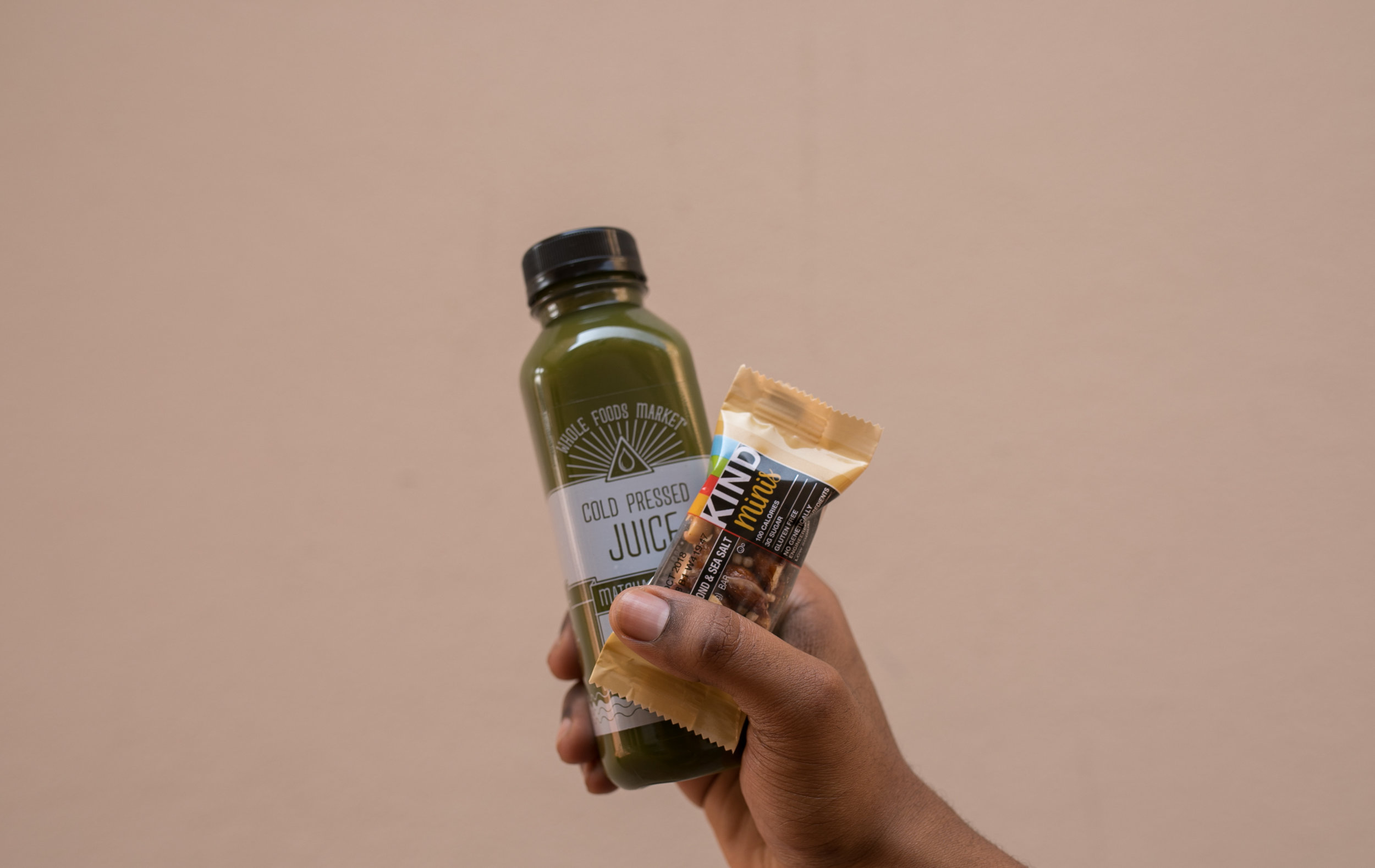 WFM Cold Pressed Juice + Kind Mini Bar
Why Whole Foods Market and why Amazon?
Whole Foods Market is my go-to grocer: the high-quality of their products and sustainable practices speak volumes to me. Outside of my weekly visits to the Farmer's market and occasional drop-ins to my locally owned grocer, Whole Foods Market fills the void in my stomach.
Amazon recently announced the close of their acquisition of Whole Foods market, bringing together two of my most favorite brands. With this announcement, Amazon immediately lowered prices on a number of best-selling products and released a few details on the very exciting future of Whole Foods Market.
My intuitive eating journey started with a ton of salads. I found myself craving foods across the spectrum, something sweet-a bit of crunch-something salty, and salads were my intuitive solution.
The versatility and limitless configurations of a salad allow you to create a meal that can solve any case of the hangries (fyi that's when you are hungry and angry at the same time). Many of my salads started with leafy greens as the base and from there, I was like an artist with a paintbrush!
I really like meat and it's safe to say I eat too much of it.
Finding meat alternatives was one of my first objectives in my intuitive eating journey. Luckily, Whole Foods Market has a never ending supply of them but Beyond Meat was one for the books!
A hands down favorite of mine.
Along with Beyond Meat, I found myself obsessing over this brand called the Jackfruit Company. It's another incredible meat alternative that not only provides you with a great texture but flavor as well.
Recipe:
Beyond Meat Burger with extra Tzatziki Sauce
Week one of my intuitive eating journey is down and this next week, I intend to continue incorporating 'health selfishness,' eating the foods that I need to and not being sorry about it.
#sorrynotsorry
This post is brought to you in collaboration with Whole Foods Market and Amazon. The opinions are all mine. Thank you for supporting the brands that support Kasim Hardaway!